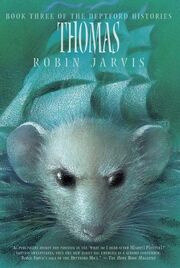 Thomas is the third book in the Deptford Histories Trilogy by Robin Jarvis.
The story tells of the midshipmouse Thomas Triton's adventures when he was young. He and his friend Woodget Pipple become embroiled in the hideous schemes of the Scale, the followers of the evil serpent god Sarpedon.
Old Wounds
A Bowl of Berrybrew
Mulligan
Aboard the Calliope
Steeped in Venom
Simoon
Siren Songs
Into the Raging Squall
At the Shrine of Virbius
The Passing of the Burden
The Legacy of Mulligan
The City of Hara
The Holy One
The Betrayal of Hara
The Adept of Sarpedon
The Lotus Parlour
The Black Temple
Journey's End
Sadhu
Ad blocker interference detected!
Wikia is a free-to-use site that makes money from advertising. We have a modified experience for viewers using ad blockers

Wikia is not accessible if you've made further modifications. Remove the custom ad blocker rule(s) and the page will load as expected.