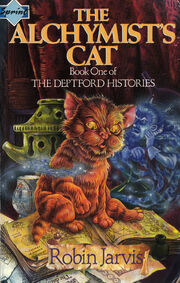 The Alchymist's Cat is the first book in the Deptford Histories Trilogy by Robin Jarvis.
When young Will Godwin, an alchemist's assistant, finds a mother cat and her three kittens in a London churchyard, he carries them back to his master's apothecary. And there unfolds a tale of sorcery, villainy and murder. . . which eventually leads to the beginning of Jupiter.
The Beginning
Childhood Forsaken
"Where Dreams and Nightmares Mingle"
The Apothecary
A Hideous Task
A Dragon in the Rags
Necromancy
Playing with Fire
Adieu
"Lord Have Mercy on Us"
The Plague Doctor
At the Southwarke Mission
The Fall of Adonis
The Depths of His Black Heart
Of Reckoning and Destiny
The Blackened Beast
Ad blocker interference detected!
Wikia is a free-to-use site that makes money from advertising. We have a modified experience for viewers using ad blockers

Wikia is not accessible if you've made further modifications. Remove the custom ad blocker rule(s) and the page will load as expected.