Arthur Brown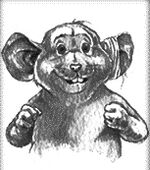 | | |
| --- | --- |
| Species: | Mouse |
| Place of Origin: | The Skirtings |
| Gender: | Male |
| Death: | Unknown |
Arthur Brown is the brother of Audrey, the son of Albert and Gwen Brown, and the husband of Nel Poot. He has left the lodgings on board the Cutty Sark and led a large part of Skirtings and Landings folk through the sewers and underground to become the new Thane of Holeborn.
Ad blocker interference detected!
Wikia is a free-to-use site that makes money from advertising. We have a modified experience for viewers using ad blockers

Wikia is not accessible if you've made further modifications. Remove the custom ad blocker rule(s) and the page will load as expected.